Skip to Content
Check Engine Light On? Schedule an Appointment Today
Call for a Free Appointment! No Obligation.
We Service Recreational Vehicles Too!
Contact Us Today For More Information.
Reliable Transmission and Auto Repairs in Yuma, AZ
Cars have become more than a luxury. They are a necessity. From commuting to work and shopping for groceries to shuttling kids to practices and picking them up from school, we rely on them daily for almost everything we do. At AAMCO Yuma, we're dedicated to keeping our customers in the Yuma, AZ area on the road with reliable auto maintenance and repair services from our team of highly skilled technicians. Whether it's time for a routine tune-up or you've noticed an odd sound or feel in your car, you can count on us to accurately diagnose the problem and provide a solution to have you on your way. Contact us today to schedule your free, no-obligation appointment for a vehicle assessment.
Choose Professionals You Can Trust
Trust and honesty are essential when choosing an auto mechanic to perform critical work on your vehicle. Our team stands behind our promise to deliver nothing but reliable services and provide a clear explanation of what is going on with your car and what we can do to fix it. Car owners throughout the Yuma area come to us because of our: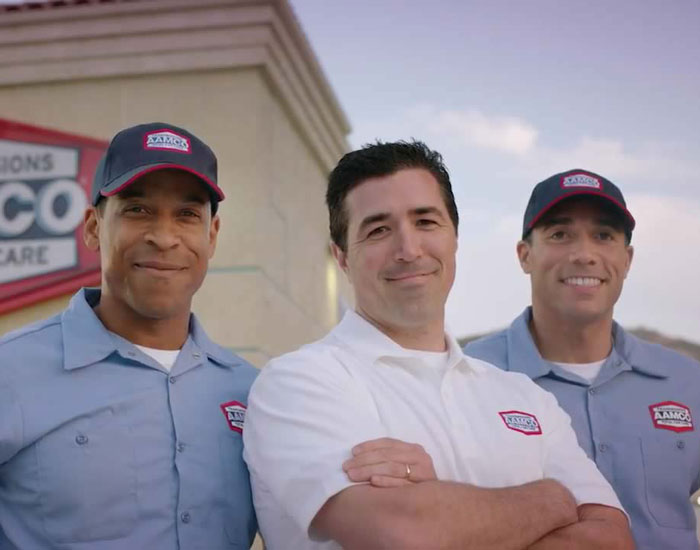 Nationwide Warranties – We're locally owned and operated but are also part of a national network of AAMCO locations. Whether you've had work performed here or at another AAMCO, our warranties have you covered no matter what part of the country you're in.
State-of-the-Art Equipment – Our auto shop is equipped with the latest diagnostic equipment to ensure we get the most accurate assessment of the car's issue. Is your check engine light on? Bring it in, and we'll give you a free check to determine the cause.
Local Towing – If your car is inoperable, either at the side of the road or in your driveway, call us for a tow to our shop. We offer local towing for your convenience. Give us a call to learn more about this service.
Fleet Service Contracts – If you're a business owner with multiple cars, vans, or trucks in your fleet, having a reliable mechanic on your side is critical to your operation. Our experienced technicians are here to keep your vehicles in great shape with competitive fleet contract pricing.
Payment Plans With No Credit Check
Reliable Repairs Every Time
Staying on top of your vehicle's required repairs and scheduled maintenance goes a long way in getting the most value and miles out of it. Putting off service not only jeopardizes the health of the engine but could put you and other drivers at risk. We're here to provide a wide range of services and comprehensive car care to keep your vehicle operating safely. We promise to work promptly to minimize your time without a car. Contact us to schedule an appointment today.
Schedule Your Appointment Today!
Book Your Car Repair Service
Phone
Address
1699 1st Avenue
Yuma, AZ 85364
Hours of Operation
Monday: 8:00 AM – 5:00 PM
Tuesday: 8:00 AM – 5:00 PM
Wednesday: 8:00 AM – 5:00 PM
Thursday: 8:00 AM – 5:00 PM
Friday: 8:00 AM – 5:00 PM
1699 S 1st Ave, Yuma, AZ 85364, USA